The Lord Will Provide
by Dr. Lucius M. Dalton, Senior Pastor of Mt. Moriah Baptist Church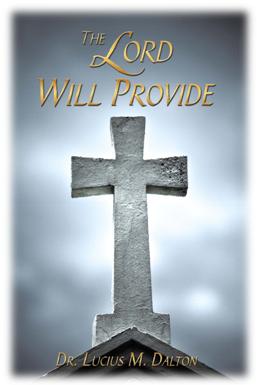 Book Description: Genesis 11:30 says, "Now Sarai was barren; she had no children." It seems as if the family of Genesis has come to an end. Yet, God speaks directly into this situation. There is good news. Abram and Sarai will have a child. This journey from barrenness to childbirth begins with the faith of Abram. Barrenness is the condition of much of humanity today. There are many today who are empty and desolate. However, God is calling the barren by name. If the barren responded faithfully to God's call, their barrenness will turn into fruitfulness. The Lord will provide! The Lord Will Provide traces the steps of Abraham from the time the Lord called him to leave home for a land that the Lord would show him (Genesis 12:1) to the time he proved his willingness to sacrifice Isaac on Mount Moriah (Genesis 22:1-14). It details Abraham's constant struggle with faith and doubt and then compares Abraham's faith and doubt with that of humanity. The Lord Will Provide was preached as a seven sermon series in 2010 to commemorate the 125th Anniversary of Mount Moriah Baptist Church.

Specifications:
Papaerback/Hardback: 102 pages
Publisher: AuthorHouse (February 2011)

Language: English
ISBN: 9781456737030 (e)
ISBN: 9781456737221 (hc)
ISBN: 9781456737214 (sc)
Product Dimensions: 9 x 6 x .25

Doing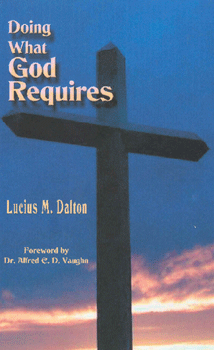 What God Requires
by Dr. Lucius M. Dalton,
Senior Pastor, Mt. Moriah Baptist Church
print & mail
Listen to an interview with Pastor Dalton about his book.
In 2002, God led Mt. Moriah Baptist Church in Washington, D.C. to commit, as a congregation, to developing a mind like Christ. That commitment resulted in a verse-by-verse exposé of Christ's Sermon on the Mount and the compilation of twenty-one sermons preached by Lucius M. Dalton as he encouraged his congregation to live like Christ.
Doing What God Requires
teaches what God requires of Christians in order for us to inherit the kingdom of heaven. It not only explains how we are to apply the teachings of Christ in modern times, but also what His instructions should look like in our everyday lives.
Doing What God Requires
is written for those who are serious about living Christ-like lives.
Specifications:
Paperback: 332 pages
Publisher: Orman Press, Inc. (December 2003)
Language: English
ISBN-10: 189177316X
ISBN-13: 978-1891773167
Product Dimensions: 8.3 x 5.6 x 0.9 inches